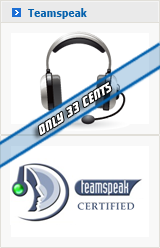 Teamspeak servers
Teamspeak is priority "Voice over IP" software that allows users to speak on a chat channel with other users, much like a telephone conference call. A Teamspeak user will often wear a headset with an integrated microphone.
Why gamers choose teamspeak?
The target group for Teamspeak is gamers, who can use the software to communicate with other players in the same team of a multiplayer game. Communicating by voice gives a competitive advantage by allowing players to keep their hands on the controls.
Best price & high quality
When you order one of our teamspeak servers, you will get our best price of 0,33 a slot! This price is the same for private and public servers. You can control your teamspeak server with the control panel and configure your server to your own needs. In addition to that we give live support for the servers.
Fastest codec-packs
All servers are inclusive of a free setup and our setup provides only the fastest codec-packs. So we always set you up with the fastest Teamspeak server. Because of this configuration all users of Teamspeak have great and stable connections.