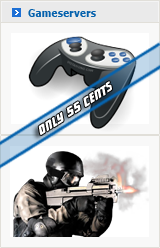 Gameservers
Gameservers & clan packages
Die Hard Servers uses a simple and multifunctional control panel to configure and control the gameservers. The control panel has a start/stop/restart function, a restart schedule function, FTP access, server statistics and an overview of all the players who are playing at that moment in the gameserver. It's even possible to change the configs and any kind of mod settings with our control panel. We also have reinstall options to repair your gameserver files very fast if you have deleted or changed any files which damaged or made the gameserver break down.
For the gamers that want more than one gameserver we have the option to order one of our clan packages. These clan packages can be configurated and it's even possible to order two different games in one clan package.
Extra's
All our servers are inclusive of Control Panel access, Full FTP access, full server/mod support, free set-up and free debrand. Planned updates and maintenance. Great connections and stable low pings. Fast live support by "Msn messenger" and "Xfire".